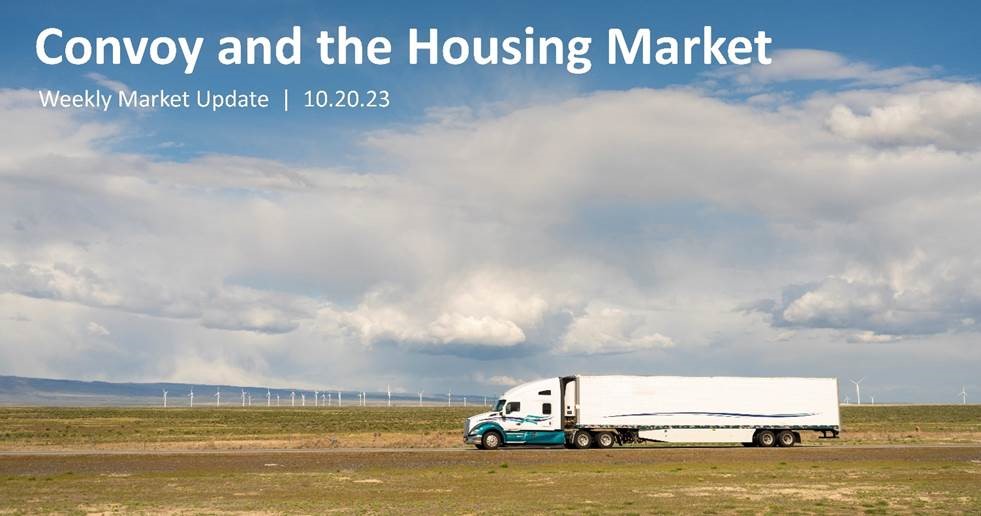 Puget Sound Real Estate:  Convoy and the Housing Market 
My dad is a really smart guy.  And I'm not talking Doctorate of Whatever kinda thing – he's just street-smart to the max, and among other things, he follows a bunch of little anecdotes that make all the sense in the world.  One of them being:  Wanna know where the economy's going?  Follow shipping.  It's so simple, but it makes sense!  Did you know that UPS alone carries 6% of America's GDP on its trucks every year?  If shipping starts slipping, oftentimes our economy isn't far behind.  That's why when Yellow Trucking went down in August my ears perked up a little.  Then when logistics giant Flexport announced 20% layoffs last week (~165 people in their Bellevue office), they perked up more.  But when the start-up darling of darlings Convoy – who had a $3.8b valuation as recently as last year with investments from Jeff Bezos, Bill Gates, Salesforce CEO Marc Benioff, U2s Bono, and others went belly-up on Wednesday – Yeah, ok.  Now you have my attention.
At its peak, Convoy employed about 1,500 people and was headquartered in Downtown Seattle – which means there are two sides to explore here as it pertains to the Puget Sound Housing Market:  Do we need to be concerned about all these shipping companies going out of business, and what does our local unemployment look like?
Firstly, shipping companies going outta business – Well, as it turns out, there are A LOT of shipping companies in the United States.  Like, hundreds of thousands more than I would have thought.  There are about 531,000 carriers in the United States (97% of which have fewer than 10 trucks, but still!).  Long story short with shipping:  During the pandemic when literally EVERYTHING was being shipped to people's front doorsteps, the industry grew by about 1,124 new fleets PER WEEK!  So even though we lost about 9,000 trucking companies in the first quarter of 2023, and I'm sure have lost many thousands more since, we still have about 63,000 more shipping companies than the longterm trendline would suggest we should.  In a highly commoditized industry – where one shipping company isn't all that much different than another – there was simply an over-supply of truckers and delivery drivers that put extreme downward pressure on prices, which is what's driving these shipping companies out of business.  It has nothing to do with the Economy, and everything to do with an industry self-correcting from a Pandemic-fueled boom (kinda like the mortgage industry, which has lost nearly 100,000 loan officers since the beginning of 2022.  But I digress.).
So overall, despite some major shipping company shut-downs, shipping itself is not yet telling us the broader economy is in terrible trouble quite yet.  But what about our local economy and job market?  We just added a little less than 1,500 people to the unemployment line due to Convoy's closure – that can't be good for Puget Sound housing, right?  Gotta be employed to buy a house!  Interestingly enough, despite ALLLLL the major headlines we've read over the past year+ about layoffs – from Amazon, to Microsoft, to now Convoy (and plenty of others), the King County unemployment rate is still lower than the national unemployment rate, which is only a few tenths of a percent higher than the all-time record low reached in the 50s!  The national unemployment rate is 3.8%.  King (and Snohomish) County's?  3.7%.  In a very cool, somewhat unexpected, evolution of events – when you lay off really smart and driven-to-succeed people, they don't just roll over and go to waste – they start companies!  They are the epitome of one step back for many MANY steps forward.  One person may have lost their job in the short run, but give them a little time and all of a sudden they're on their way to employing multiple like-minded people – who probably have to move to Puget Sound from out of state because the University of Washington only graduates about 450 computer science degrees per year, btw.  Already from the earlier layoff rounds, there's a "Convoy Mafia" with more than 25 startups making waves in the Puget Sound region – Only time will tell how many more startups or economic growth will come out of this latest round.
Take it Home
Interest rates are above 8%.  The current Pending Transaction count is as low as it's been since 2009 (outside of this past January).  And everywhere in Puget Sound has ample inventory – which has not been the norm over the past decade.  Though there's plenty to be curious about with regards to the Puget Sound Housing Market and where things will go from here, I'm comforted by the details behind the headlines:  The shipping industry is in a correction and not necessarily signaling Deep Recession Ahead.  And all signs point to our economy becoming even stronger in the longrun due to the innovation and drive from people making lemonade outta lemons.  BTW – Did you know that Microsoft Alumni have founded 2,385 for-profit companies, and Amazon Alumni 728?  The Puget Sound housing market may ebb and flow a little bit here in the short run with really high interest rates; but in the long run, with stats like this, our housing market is rooted in as solid economy as they come.
Puget Sound Real Estate:  Charts and Data
A picture is worth a thousand words…
 Days of Single Family Residence Inventory per NWMLS on 10.1.23 (chart below for longer term trends)
Seattle:  68.26 Days of Inventory (up 4.17 days since October 1st)
Bellevue/Redmond/Kirkland:  41.25 Days of Inventory (up 1.20 days since October 1st)
Everett/Marysville/Lake Stevens:  31.09 Days of Inventory (up 2.8 days since October 1st)
Tacoma/Lakewood/Federal Way:  61.27 Days of Inventory (up 2.85 days since October 1st)
Housing prices remain insanely resilient in the face of record-breaking un-affordability across the Puget Sound
Seattle and the South End are about 2 months of inventory.  The Eastside and North End have just over 1 month.
Since 2009, only this past winter had fewer pending transactions to purchase a home than we have now.
Seattle has ample inventory – which hasn't been the norm for much of the past decade.
Ok, that's all for now.  Stay safe, and have the best weekend ever!
Kyle Bergquist
Branch Manager – APM Puget Sound Group
Cell:  425.478.0961
Licensed to Originate Mortgages in:
Washington (MLO-918621), Oregon (OR-918621), Montana (MT-918621),
California (CA-DBO918621), Arizona (LO-1045468), and Hawaii (HI-918621)
American Pacific Mortgage
Company NMLS: 1850  |  Equal Housing Lender
1448 NW Market Street, Office 5-127; Seattle, WA 98107
I really don't want to be a bother, so please reply "Kindly Unsubscribe" to stop receiving these emails  : )  
Now for the APM Compliance stuff: 
The information above is not intended for redistribution by anyone other than Kyle Bergquist or his team at American Pacific Mortgage, branch 5340.  The information provided herein is being distributed for education purposes only.  Each loan is subject to underwriter final approval.  Some products and services may not be available in all states.  Credit and collateral are subject to approval. Terms and conditions apply. Programs, rates, terms, and conditions are subject to change and are subject to borrower(s) qualification. This is not a commitment to lend.
Always consult an accountant or tax advisor for full eligibility requirements on tax deduction.  Monthly savings for qualified borrowers will vary based upon a variety of factors including, but not limited to loan amount, existing interest rate, and the rates the customer qualifies for.  None of the interest rates in this history represent interest rates that American Pacific Mortgage has offered or is currently offering. Rather, they are for informational purposes only and reflect historical interest rates that were available in the marketplace at some point during the period to which they relate. For current interest rates and annual percentage rates that APM offers, please give me a shout.  The positions, strategies, or opinions above do not necessarily represent the positions, strategies or opinions of American Pacific Mortgage or its affiliates.  Information contained in this article does not constitute legal, financial, or other professional advice or services and should not be used as a substitute for professional advice. The reader accepts full responsibility for the use of the information contained herein. APM NMLS 1850, an Equal Housing Lender.
Licensed by the Department of Financial Protection and Innovation (DFPI) under the California Residential Mortgage Lending Act 4130403, and the Washington-Department of Financial Institutions.
Confidential: This electronic message and all contents contain information from American Pacific Mortgage Corporation which may be privileged or confidential. The information is intended for the individual or entity named above. If you are not the intended recipient, be aware that any disclosure, copying, distribution or use of the contents of this information is prohibited. If you have received this electronic message in error, please notify the sender by reply e-mail and destroy the original message and all copies.
Alert: For your protection and our customer's data security, we remind you that this is an unsecured email service that is not intended for sending confidential or sensitive information. Please do not include social security numbers, account numbers, or any other personal or financial information in the content of the email when you respond.